Like many an Extra (non-timetabled) train, this post is intended to be short and quick – so to avoid interrupting the normal flow of (blog) traffic. In my earlier message I indicated I'd be posting a track plan. Well, things like workload and family obligations have made it a habit of keeping my best intentions "in the hole" (side-tracked). However, I do have a rough drawing of my downstairs layout room to share – coupled with an equally crude drawing of the footprint I intend the first phase of construction to occupy. You can see it on the right.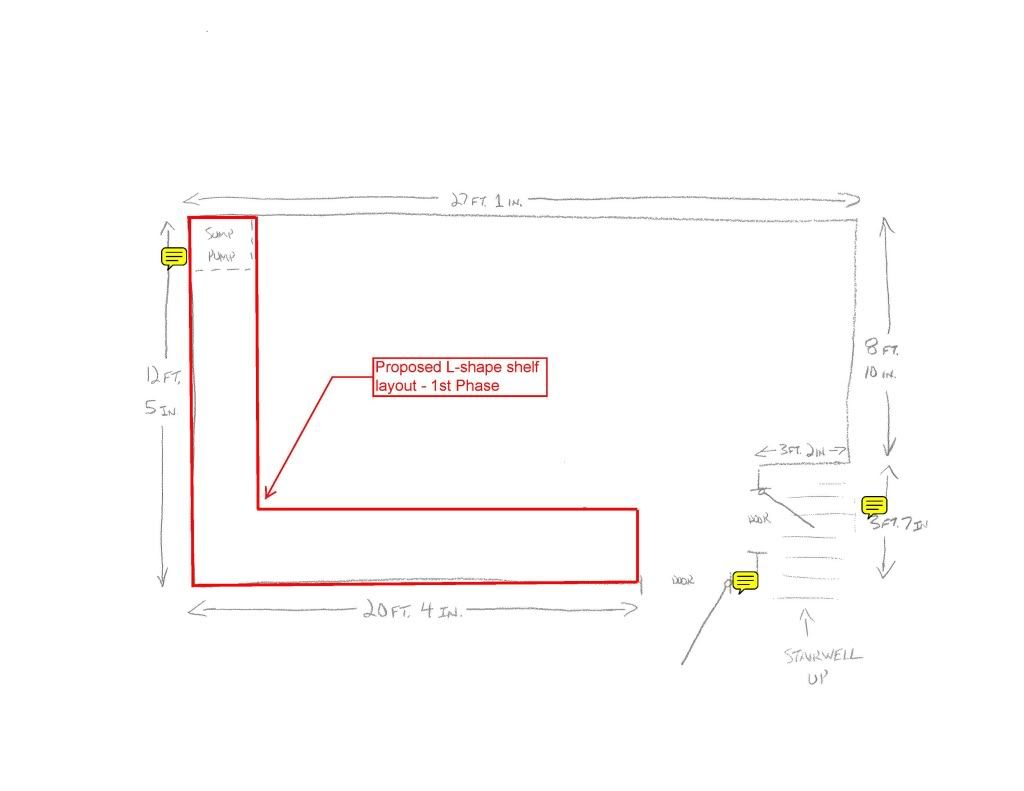 The initial iteration of my layout will run clockwise from the entry doorway at 5:00 – roughly 20 feet to the first corner, and then another 12 feet to the next 90 degree turn at the ten o'clock position. I figure about 32 linear feet is plenty to keep me busy right now.

I have to get off the dime, and at least get a approximate semi-scale sketch of the track plan done – to ensure my intended shelf depth of 16 inches is sufficient. Lance Mindheim's excellent library of design books is certainly helping here, along with judicious use of the late John Armstrong's "squares" method of seeing what will fit. I may have to go a couple of inches deeper but don't want to get much wider of a shelf than that. Reach at 50-54 inches high is one concern; the amount of scenery work needed to cover all that square footage is another. Soon my friend Steve will be visiting to firm up the design and plans for the benchwork so I can't take too long. He's a carpenter and licensed builder that has been helping with some home remodeling while I've been on the road. The layout benchwork is his next project, so that I can start tracklaying in earnest this Fall before the cold weather hits.

I think after 26 years it's high time to have a layout up and running again, don't you? ;)